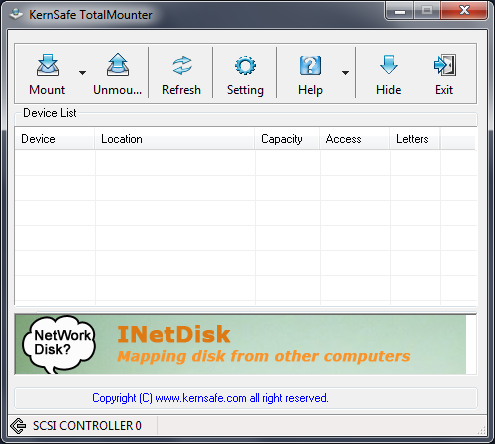 KernSafe TotalMounter features:
Provides a CD/DVD-ROM emulator that mounting image files such as iso, cdi, bin, mds, mdf, img, raw, ccd, nrg in to a virtual CD/DVD-ROM drive.
· Provides a CD/DVD-RW/RAM emulator that you can create "write" data into an CD/DVD drive, and you can also create ISO9660 files by using CD burning software.
· Provides a iSCSI Initiator for mount iStorage Server and other iSCSI Target.
· Provides a INetDisk client for mount INetDisk Server.
· Provides Virtual Write technology , so that you can copy files into a read-only drive and do not affect the peoples using other clients.
· Provides a network-bridged method. It exports an existing partition, disk, CD/DVD-ROM to clients as a virtual iSCSI drive.
· Provides as max as 8 virtual drives.
· Provides simple and banausic management tool, to manage virtual drives.
· Support for x86 and x64 machines.
· No restrictions on disk capacity, total number of hard disk installed, number of CPUs or CPU cores, and the amount of RAM.
· Fully conforms to the latest iSCSI Standard 1.0 (former Draft 20).
Requirements:
Operation System:
Microsoft Windows 2000 SP4 and Microsoft Windows XP Sp1 or above
32BIT: Windows 2000 /XP/2003/VISTA.
64BIT: Windows XP x64 Edition, Windows Server 2003 x64 Edition.
Hardware:
· 750 MHz Intel Pentium III class processor
· 256 MB of RAM
· 30 MB of disk space for application data
· Ethernet connection(for Mounting INetDisk and iSCSI)